ON SALE NOW
Introducing the Polaris Lab Water Systems
High Purity Water Made In The USA.
Click here for more info.
Stainless Steel Laboratory Water Distiller Accessories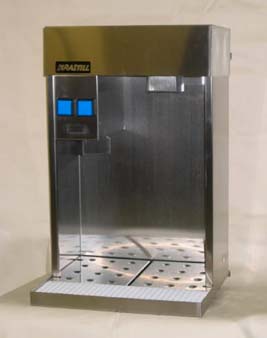 In this section you will find stainless steel laboratory water distillation accessories. These items are used for remote dispensing pressurizing and to add other features to your stainless steel distillers.


More Info
Product Name
Retail Price
Our Price


More Info

Durastill Automatic Drain For 42-C Distiller

Catalog id : 400328

Help stop the over accumulation of minerals on heating elements. Automatically drains boiler chamber.
Operating Manual


$665.67
$605.15


More Info

Durastill Commercial Distiller Demand Pump

Catalog id : 200107

For presurized distribution of distilled water form the storage tank. 1.4 g.p.m.


$325.31
$301.99


More Info

Durastill Commercial Distiller Demand Pump

Catalog id : 200266

For presurized distribution of distilled water form the storage tank. 3.3 g.p.m.


$336.97
$313.65


More Info

Durastill Demand Pump Cord Kit

Catalog id : 400470

for commercial distiller demand pumps


$22.15
$22.15


More Info

Durastill Commercial Distiller Water Filling Station

Catalog id : 400514

NAMA 1 and 5 Gallon


$1,514.63
$1,433.01


More Info

Durastill Commercial Distiller Demand Pump With Cord

Catalog id : 400532

For presurized distribution of distilled water from storage tank. 1.4 g.p.m.


$370.67
$336.97


More Info

Durastill Commercial Distiller conversion kit

Catalog id : 450078

Manual to automatic conversion kit for 30H and 46A distillers.


$205.68
$145.72


More Info

Free Standing Remote Faucet System

Catalog id : 400103

For Commercial / Laboratory Distillers with 40 liter/10 Gallon Tanks Only
Works well with the 30J-40 Complete system

$791.71
$733.41



All Images are representative and may or may not be of actual product.



Tags : LAB WATER SYSTEM | STAINLESS | STEEL | LABORATORY | WATER | DISTILLER | ACCESSORIES

LAB-WATER-SYSTEM.COM content (C)2009-2023 APS Water Services Corporation - All rights reserved
Website Software - Multi-Website Content Manager - Wilson Web Engineering (C)2012-2023


Micro-Website is a trademark of Wilson Web Engineering

stainless steel laboratory water distiller accessories
lab-water-system.com micro-website™
12/9/2023
9:30:48 PM



Google Apps
Barnstead Filters and Parts
---