ON SALE NOW
Introducing the Polaris Lab Water Systems
High Purity Water Made In The USA.
Click here for more info.
Stainless Steel Laboratory Water Distiller Packages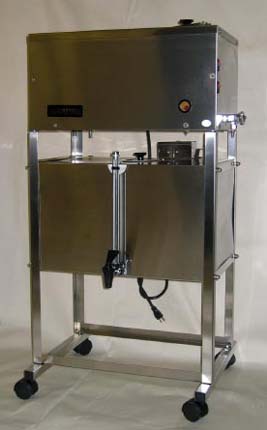 In this section you will find Stainless Steel laboratory water distillation packages. This includes the complete system with the distiller and the storage tanks. These systems are excellent for all quantity of laboratory and pharmaceutical applications as well as commercial and sterile drinking water applications. The stainless steel design is much more durable then glass still which can break easily.

Stills purify water by boiling pretreated water and then condenses the steam into purified water. Water purified with a still is generally bacteria and pyrogen free with a chemical purity of .1 to 10 p.p.m. depending on how long it is stored.


More Info
Product Name
Retail Price
Our Price


More Info

Commercial - Laboratory Water Distiller

Catalog id : 30J-40

Automatic Distiller - 8 gal./day with 10 gallon storage tank with Auto shut-off and stand

Commercial/Home Distiller Units.
Storage Tanks
Accessories
$2,661.40
$2,419.45


More Info

Commercial - Laboratory Water Distiller

Catalog id : 46C-40

Automatic Distiller - 12 gal./day with 10 gallon storage tank with auto shut-off and stand

Commercial/Home Distiller Units.
Storage Tanks
Accessories
$2,738.35
$2,489.41


More Info

Barnstead Cabinetized Laboratory Distiller

Catalog id : A1065-C

2 gallons per hour - 120/208 VAC Three Phase - 10 gallon storage

Operating Manual
$24,772.00
$0.00
No
Longer
Available


More Info

Commercial - Laboratory Water Distiller

Catalog id : 46C-40-220V

Automatic Distiller - 12 gal./day with 10 gallon storage tank with auto shut-off and stand

Commercial/Home Distiller Units.
Storage Tanks
Accessories
$2,840.96
$2,582.69


More Info

Commercial - Laboratory Water Distiller

Catalog id : 4280

Automatic Distiller - 42 gal./day with 80 gallon storage tank. Ships Via Truck Freight Only. We will quote extra costs upon request.
Commercial/Home Distiller Units.
Storage Tanks
Accessories
$6,329.63
$5,754.21


More Info

Commercial - Laboratory Water Distiller

Catalog id : 4280-AD

Automatic Distiller - 42 gal./day with 80 gallon storage tank and Auto Boiler Drain. Ships Via Truck Freight Only. We will quote extra costs upon request.
Commercial/Home Distiller Units.
Storage Tanks
Accessories
$6,995.30
$6,359.36


More Info

Commercial - Laboratory Water Distiller

Catalog id : 30H-40

Manual Distiller - 8 gal./day with 10 gallon storage tank with Auto shut-off and stand

Commercial/Home Distiller Units.
Storage Tanks
Accessories
$2,533.14
$2,302.85


More Info

Commercial - Laboratory Water Distiller

Catalog id : 30H-4.0

Manual Distiller - 8 gal./day with 4 gallon storage tank with auto shut-off.

Commercial/Home Distiller Units.
Storage Tanks
Accessories
$2,174.01
$1,976.37


More Info

Commercial - Laboratory Water Distiller

Catalog id : 42150

Automatic Distiller - 42 gal./day with 150 gallon storage tank. Ships Via Truck Freight Only. We will quote extra costs upon request.
Commercial/Home Distiller Units.
Storage Tanks
Accessories
$7,920.06
$7,200.05


More Info

Commercial - Laboratory Water Distiller

Catalog id : 42150-AD

Automatic Distiller - 42 gal./day with 150 gallon storage tank and Auto Boiler Drain. Ships Via Truck Freight Only. We will quote extra costs upon request.
Commercial/Home Distiller Units.
Storage Tanks
Accessories
$8,585.72
$7,805.20


More Info

Commercial - Laboratory Water Distiller

Catalog id : 30J-4.0

Automatic Distiller - 8 gal./day with 4 gallon storage tank with auto shut-off.

Commercial/Home Distiller Units.
Storage Tanks
Accessories
$2,302.27
$1,795.00



All Images are representative and may or may not be of actual product.



Tags : LAB WATER SYSTEM | STAINLESS | STEEL | LABORATORY | WATER | DISTILLER | PACKAGES

LAB-WATER-SYSTEM.COM content (C)2009-2023 APS Water Services Corporation - All rights reserved
Website Software - Multi-Website Content Manager - Wilson Web Engineering (C)2012-2023


Micro-Website is a trademark of Wilson Web Engineering

stainless steel laboratory water distiller packages
lab-water-system.com micro-website™
12/9/2023
8:57:31 PM



Google Apps
Barnstead Filters and Parts
---