ON SALE NOW
Introducing the Polaris Lab Water Systems
High Purity Water Made In The USA.
Click here for more info.
APS Polaris Brand Lab Water Systems With QA Meters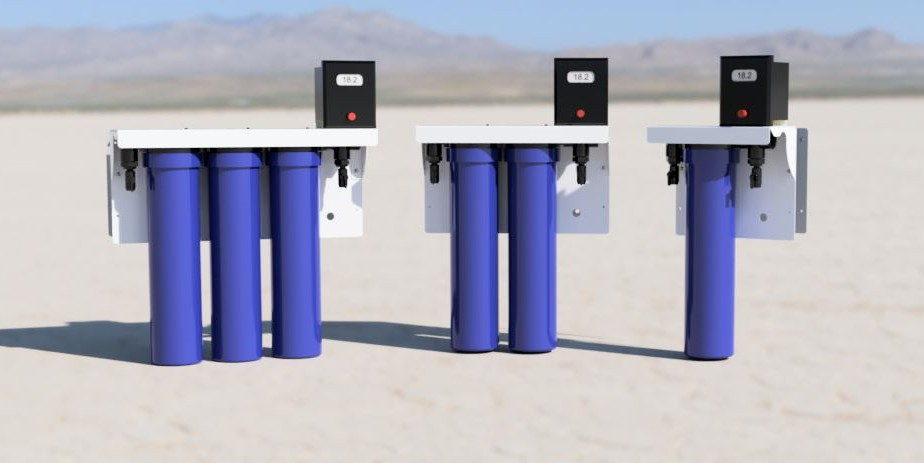 In this section you will find laboratory water purification equipment from our own APS WATER. The APS Polaris brand of lab water products are designed to give you the quality and quantity of high purity water you need for your applications.

These system are made in the USA to exacting standards. Customization is available.




Systems in this section include a high quality NIST calibratable quality meter to allow for highly accurate measurement of the water quality produced.
More Info
Product Name
Retail Price
Our Price


More Info

APS ULTRA 3 Dual Housing System

Catalog id : POL10B2

This dual housing is designed to provide 2 g.p.m. of ultrapure water exceeding ASTM and CAP Type I specifications.

See all Polaris Systems Here
$2,566.00
$2,370.25


More Info

APS Polaris D2 Water System with Quality Meter

Catalog id : P2D2-M

This dual housing is designed to provide 1 g.p.m. of ultrapure water exceeding ASTM and CAP Type II specifications.

Comparable to Barnstead D4521

Operating Manual

See all Polaris Systems Here

Dimensions : 18" W X 28" H X 6" D

$2,966.00
$2,570.25


More Info

APS Polaris D3 Water System with Quality Meter

Catalog id : P2D3-M

This high capacity triple housing is designed to provide 1 g.p.m. of ultrapure water exceeding ASTM and CAP Type II specifications.

Operating Manual

See all Polaris Systems Here




PROUDLY MADE IN THE USA




Dimensions : 23" W X 28" H X 6" D





$3,496.94
$2,830.20


More Info

APS Polaris D1 Water System with Quality Meter

Catalog id : P2D1-M

This compact single housing is designed to provide 1 g.p.m. of ultrapure water exceeding ASTM and CAP Type II specifications.

Comparable to Barnstead D4511

See all Polaris Systems Here

Dimensions : 12" W X 28" H X 6" D



Operating Manual

$2,118.94
$1,761.72


More Info

APS Polaris D2 Water System with Quality Meter

Catalog id : P1D2-M

This dual housing is designed to provide 2 l.p.m. of ultrapure water exceeding ASTM and CAP Type II specifications.


Operating Manual

See all Polaris Systems Here
$2,499.00
$2,150.25



All Images are representative and may or may not be of actual product.



Tags : LAB WATER SYSTEM | APS | POLARIS | BRLAB | WATER | SYSTEMS | WITH | QA | METERS

LAB-WATER-SYSTEM.COM content (C)2009-2023 APS Water Services Corporation - All rights reserved
Website Software - Multi-Website Content Manager - Wilson Web Engineering (C)2012-2023


Micro-Website is a trademark of Wilson Web Engineering

aps polaris brlab water systems with qa meters
lab-water-system.com micro-website™
12/9/2023
9:49:52 PM



Google Apps
Barnstead Filters and Parts
---