ON SALE NOW
Introducing the Polaris Lab Water Systems
High Purity Water Made In The USA.
Click here for more info.
Barnstead B-Pure Water Systems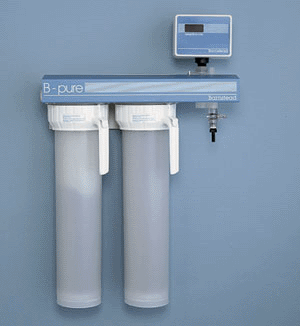 Barnstead B-Pure Water System is a 2 housing system designed to provide 3 l.p.m. of high purity water. Modular B-pure systems provide you the flexibility to design your own water system. Simply add additional filter cartridge holders as your water needs change. Systems produce up to 4 liters per minute. Use Single System as an economical stand alone system or attach more than one together using the provided hardware. Double system comes with a draw-off valve and digital temperature compensated purity meter. Max. inlet pressure: 100 psig.
More Info
Product Name
Retail Price
Our Price


More Info

Barnstead B-PURE Single Holder

Catalog id : D4511

This single housing is designed to provide 3 l.p.m. of purified water.
Replacement Filters
Operating Manual for D4521 Dual) AND D4511 Single)
Other Comparable Units







$657.00
$611.01


More Info

Barnstead B-PURE Double Holder 120V Meter

Catalog id : D4521

This 2 housing system is designed to provide 3 l.p.m. of purified water. Includes Digital Resistivity Meter.

Special Pricing

Replacement Filters
Operating Manual
Other Comparable Units




which is usually in stock or has a short lead time.







$3,491.00
$3,037.17


More Info

Barnstead B-PURE Double Holder 120V 50K Puralite

Catalog id : D4524

This 2 housing system is designed to provide 3 l.p.m. of purified water. Includes quality indicator light.

Special Pricing

Replacement Filters
Operating Manual
Other Comparable Units




$1,745.00
$1,622.85


More Info

HANDLE ASSEMBLY

Catalog id : HN550X1A

For Barnstead Nanopure Bioresearch, E-pure and B-Pure Systems.
$135.60
$129.95


More Info

Barnstead B-PURE DH 120V 200K Puralite

Catalog id : D5831

This 2 housing system is designed to provide 3 l.p.m. of purified water. Includes quality indicator light.

Special Pricing

Replacement Filters
Operating Manual
Other Comparable Units




$1,392.60
$0.00
No
Longer
Available


More Info

Barnstead B-PURE DH 120V 1 MEG Puralite

Catalog id : D5833

This 2 housing system is designed to provide 3 l.p.m. of purified water. Includes quality indicator light.

Special Pricing

Replacement Filters
Operating Manual
Other Comparable Units




$1,777.00
$1,652.61


More Info

Barnstead Dem Lab Pres Double

Catalog id : D0855

Use for high temp applications. Uses standard filters for Barnstead B-Pure systems.
$4,463.00
$4,150.59


More Info

HARVEY DI+ WATER PRET. SYSTEM

Catalog id : AY1273X4

Harvey Brand Deionizer System

Replacement filter can be found here
$1,554.00
$1,445.22


More Info

BLOCK PRESSURE RELEASE

Catalog id : BK583X2

Thermo / Barnstead Brand Product
$130.80
$125.35



All Images are representative and may or may not be of actual product.



Tags : LAB WATER SYSTEM | BARNSTEAD | B-PURE | WATER | SYSTEMS

LAB-WATER-SYSTEM.COM content (C)2009-2023 APS Water Services Corporation - All rights reserved
Website Software - Multi-Website Content Manager - Wilson Web Engineering (C)2012-2023


Micro-Website is a trademark of Wilson Web Engineering

barnstead b-pure water systems
lab-water-system.com micro-website™
12/9/2023
9:02:42 PM



Google Apps
Barnstead Filters and Parts
---