ON SALE NOW
Introducing the Polaris Lab Water Systems
High Purity Water Made In The USA.
Click here for more info.
Barnstead Nanopure Diamond Lab Water System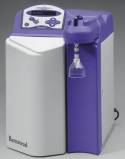 The Nanopure Diamond has been replaced with the new and improved Barnstead GenPure Lab Water systems.

Replacement filters and parts are still available.

Type I. Ultrapure water system supplies Type I water with resistivity up to 18.2 megohm·cm that exceeds ASTM CAP and NCCLS Type I water requirements. Also complies with USP XXIII guidelines with compensated and uncompensated resistivity measurements. Multilanguage display; whisper-quiet operation.

Operating Manual For the Nanopure Diamond Systems

If you are looking for info on older Nanopure system click here.
More Info
Product Name
Retail Price
Our Price


More Info

NANOPURE ANALYTICAL SYSTEM

Catalog id : D11901

The Nanopure Diamond has been replaced with the new and improved Barnstead GenPure Lab Water systems.

Replacement filters and parts are still available.

For sensitive analytical procedures including atomic absorption. ICP and ICP/MS, IC, GC and high-wavelength HPCL. Produces up to 1.5L/min. of Type I water.
Replacement Filters
Other Comparable Units
Operating Information
$6,193.00
$0.00
No
Longer
Available


More Info

NANOPURE ANALYTICAL UV SYSTEM

Catalog id : D11911

The Nanopure Diamond has been replaced with the new and improved
Barnstead GenPure Lab Water systems.

Replacement filters and parts are still available.

For critical applications requiring Type 1 water with less than 1ppb TOC. Perfect for HPLC and other low toc applications.
Replacement Filters
Other Comparable Systems
Operating Manual
Operating Information
$8,410.60
$0.00
No
Longer
Available


More Info

NANOPURE UF SYSTEM W TOC

Catalog id : D11961

The Nanopure Diamond has been replaced with the new and improved
Barnstead GenPure Lab Water systems.

Replacement filters and parts are still available.

For critical applications requiring 18.2 megohms water with pyrogen removal using a 10k mol wt. UF membrane. Includes TOC monitor
Replacement Filters
Other Comparable Systems
Operating Information
$9,824.10
$0.00
No
Longer
Available


More Info

NANOPURE LIFE SCIENCE UV/UF SYSTEM W TOC

Catalog id : D11971

The Nanopure Diamond has been replaced with the new and improved
Barnstead GenPure Lab Water systems.

Replacement filters and parts are still available.

For critical applications requiring pyrogen free 18.2 megohms water with low organic levels and a built in TOC monitor, 1.5 l.p.m. flow rate.
Replacement Filters
Other Comparable Units
Operating Information
$10,945.00
$0.00
No
Longer
Available


More Info

NANOPURE LIFE SCIENCE UV/UF SYSTEM

Catalog id : D11931

The Nanopure Diamond has been replaced with the new and improved
Barnstead GenPure Lab Water systems.

Replacement filters and parts are still available.

For critical applications requiring 18.2 megohms water with pyrogen removal and less than 1ppb TOC, 1.5 l.p.m. flow rate.
Replacement Filters
Other Comparable Units
Operating Information
$9,056.30
$0.00
No
Longer
Available


More Info

NANOPURE ANALYTICAL SYSTEM W TOC

Catalog id : D11941

The Nanopure Diamond has been replaced with the new and improved
Barnstead GenPure Lab Water systems.

Replacement filters and parts are still available.

For sensitive analytical procedures including atomic absorption. ICP and ICP/MS, IC, GC and high-wavelength HPCL. Produces up to 1.5L/min. of Type I water. Included TOC monitor
Replacement Filters
Other Comparable Units
Operating Information
$8,350.10
$0.00
No
Longer
Available


More Info

NANOPURE ANALYTICAL UV SYSTEM W TOC

Catalog id : D11951

The Nanopure Diamond has been replaced with the new and improved
Barnstead GenPure Lab Water systems.

Replacement filters and parts are still available.

For critical applications requiring Type 1 water with less than 1 ppb TOC. Perfect for HPLC and other low toc applications. Includes TOC monitor
Replacement Filters
Other Comparable Systems
Operating Information
$9,824.10
$0.00
No
Longer
Available


More Info

NANOPURE BIOLOGICAL UF SYSTEM

Catalog id : D11921

The Nanopure Diamond has been replaced with the new and improved
Barnstead GenPure Lab Water systems.

Replacement filters and parts are still available.

For critical applications requiring 18.2 megohms water with pyrogen removal using a 10k mol wt. UF membrane.
Replacement Filters
Other Comparable Systems
Operating Information
$8,410.60
$0.00
No
Longer
Available



All Images are representative and may or may not be of actual product.



Tags : LAB WATER SYSTEM | BARNSTEAD | NANOPURE | DIAMOND | LAB | WATER | SYSTEM

LAB-WATER-SYSTEM.COM content (C)2009-2023 APS Water Services Corporation - All rights reserved
Website Software - Multi-Website Content Manager - Wilson Web Engineering (C)2012-2023


Micro-Website is a trademark of Wilson Web Engineering

barnstead nanopure diamond lab water system
lab-water-system.com micro-website™
12/9/2023
9:43:58 PM



Google Apps
Barnstead Filters and Parts
---