ON SALE NOW
Introducing the Polaris Lab Water Systems
High Purity Water Made In The USA.
Click here for more info.
Barnstead - Corning MegaPure Water Purification Stills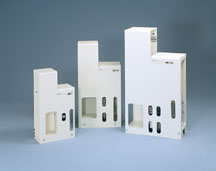 In this section you will find glass laboratory water distillation systems with flow rates of 3 to 13 lph. These systems are excellent for laboratory pharmaceutical and teaching applications.

Stills purify water by boiling pretreated water and then condenses the steam into purified water. Water purified with a still is generally bacteria and pyrogen free with a chemical purity of .1 to 10 p.p.m. depending on how long it is stored.


More Info
Product Name
Retail Price
Our Price


More Info

Barnstead Mega-Pure Glass Still MP-1 120V w/BOTTLE

Catalog id : A440267

1.4 lph Glass and steel constuction with 6 liter storage container. Pyrogen Free Water
Other Comparable Systems
Spare Parts
Operating Manual
$4,581.00
$3,985.47


More Info

Barnstead Mega-Pure Glass Still MP-1 120V

Catalog id : A440266

1.4 lph Glass and steel construction without storage container. Pyrogen Free Water
Other Comparable Systems
Spare Parts
Operating Manual


$4,391.00
$3,820.17


More Info

Barnstead Mega-Pure Glass Still MP-3A 240V

Catalog id : A440367

3.4 lph Glass and steel constuction Pyrogen Free Water
Other Comparable Systems
Spare Parts
Operating Manual
$7,856.00
$6,834.72


More Info

Barnstead Mega-Pure Glass Still MP-3A 208V

Catalog id : A440696

3.4 lph Glass and steel constuction Pyrogen Free Water
Other Comparable Systems
Spare Parts
Operating Manual
$7,856.00
$6,834.72


More Info

Barnstead Mega-Pure Glass Still MP-6A 208V

Catalog id : A440697

6 lph Glass and steel constuction Pyrogen Free Water
Other Comparable Systems
Spare Parts
Operating Manual
$10,709.00
$9,316.83


More Info

Barnstead Mega-Pure Glass Still MP-6A 240V

Catalog id : A440518

6 lph Glass and steel constuction Pyrogen Free Water
Other Comparable Systems
Spare Parts
Operating Manual
$10,709.00
$9,316.83


More Info

Barnstead Mega-Pure Glass Still MP-11A 240V

Catalog id : A440118

13 lph Glass and steel constuction Pyrogen Free Water
Other Comparable Systems
Spare Parts
$16,526.00
$14,377.62


More Info

Barnstead Mega-Pure Glass Still MP-11A 208V

Catalog id : A440117

13 lph Glass and steel constuction Pyrogen Free Water
Other Comparable Systems
Spare Parts
$14,146.00
$0.00
No
Longer
Available


More Info

MEGA-PURE GLASS STILL MP-12A 208V

Catalog id : A442012

12 lph Glass and steel constuction Pyrogen Free Water
Other Comparable Systems
Spare Parts
Operating Manual
$25,426.00
$22,120.62


More Info

Barnstead Mega-Pure Glass Still MP-12A 240V

Catalog id : A442011

12 lph Glass and steel constuction Pyrogen Free Water
Other Comparable Systems
Spare Parts
Operating Manual
$18,888.10
$0.00
No
Longer
Available



All Images are representative and may or may not be of actual product.



Tags : LAB WATER SYSTEM | BARNSTEAD | - | CORNING | MEGAPURE | WATER | PURIFICATION | STILLS

LAB-WATER-SYSTEM.COM content (C)2009-2023 APS Water Services Corporation - All rights reserved
Website Software - Multi-Website Content Manager - Wilson Web Engineering (C)2012-2023


Micro-Website is a trademark of Wilson Web Engineering

barnstead - corning megapure water purification stills
lab-water-system.com micro-website™
12/9/2023
8:39:50 PM



Google Apps
Barnstead Filters and Parts
---